SHP Skiers Visit Vermont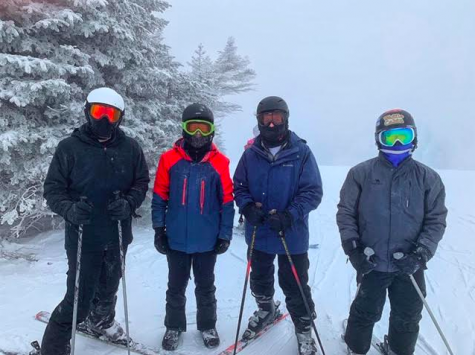 Many of the students here at SHP cannot stand the cold weather that winter brings each year.  The only thing many of them get excited about in the winter is the chance of a potential snow day.  SHP's Ski Club loves the winter and its cold weather, as it is the only time of year they can ski.
On Super Bowl weekend, seventy-one members of the Seton Hall Prep Ski Club arrived at Sugarbush Mountain in Vermont.  Sugarbush, located in central Vermont, is approximately six hours from The Prep.  This is a very well-known mountain for skiers and snowboarders in this area.  With its 2,600 foot vertical peak, everyone who conquers this mountain deserves respect. With 581 skiable acres and 111 trails which combine to a grand total of 53 miles, this mountain complex is one of the largest in our area.
Everybody had a great time navigating their way through Sugarbush Mountain's multiple different peaks.  The three highest and most notable peaks at Sugarbush are Lincoln's Peak, Castlerock, and Mount Ellen.  Mount Ellen, a more popular but less crowded mountain, consists of a terrain park, which was very popular among The Prep skiers and snowboarders.  At this terrain park, skiers and snowboarders were able to show off their skills as they completed multiple different jumps and other tricks down the hill.  However, there were also a lot of blue and green level trails that were manageable for our newer skiers or boarders who do not have too much experience on the slopes.
Besides the slopes themselves, the biggest challenge that the Ski Club had to overcome on this was the distance from the hotel to the slopes.  With a fifty-five minute drive on their hands each time they hit the slopes, The Prep club members had to think of different ideas to pass the time each day.  A lot of the members played several games of 8-ball pool with each other on their phones or spent their drives listening to music on Spotify. Mr. Metelsky and the other Ski Club advisors provided movies to watch on the coach buses for another wat to pass time.
Although the Super Bowl was conflicting in time with the Prep's drive back home, nothing was going to stop the Pirates from streaming the big game.  Many students watched the game on their phones with large audiences behind each of them them.  Even though this Super Bowl was seen as a snoozefest to many, everyone on the bus still found it interesting interesting to see the young, talented LA Rams team compete with the notoriously dominant New England Patriots.
Overall, this ski trip was a huge success and each club member had a blast. The Ski Club will be counting down the days until their next Sugarbush trip in 2020.  However, with the Park City, Utah trip coming over Presidents' Day Weekend, some SHP Ski Club members shouldn't have to even unpack their bags before they embark on the slopes yet again.