Juniors Enjoy Formal at Hanover Manor
On Friday, February 28, sixty couples attended the second annual SHP Junior Formal.  The formal was held at the Hanover Manor in East Hanover and ran from 7-11PM.  This was an ideal venue to host the formal, due to its central location for many of the students, living in nearby towns.  New Jersey's own Party King – Disk Jockey was responsible for DJing for the night.
Students and their dates took many pictures as the evening began.  Appetizers and refreshments were soon offered to everyone attending.  Many students sat down, enjoying their conversations, while waiting for the first brave person to enter the dance floor.  What got everyone on their feet was when the DJ put on music from the artist Pop Smoke, a current student favorite.  Other popular artists were played,  including Lil Tecca, Juice Wrld and Gwen Stefani.  Some oldies by Neil Diamond were also skillfully woven into the evening's dance mix.
After an hour of intense dancing, dinner was served.  Waiters and waitresses began by bringing out plates of fresh salads.  After finishing their salads, students were soon enticed by the arrival of their main courses.  The menu for the evening included various Italian dishes, meats, meatballs, potatoes, and many more phenomenal eats.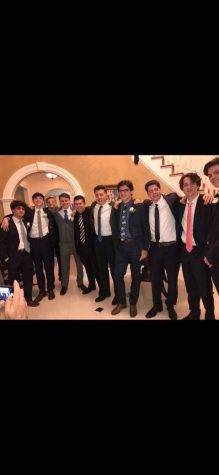 Shortly after finishing their dinners, students returned to the dance floor to continue the night.  The evening culminated with dessert.   The party-goers were treated to an assortment of delicious cakes.  All in all, the evening proved to be a success.  Delicious food, great music and a room full of friends…. a great night to add to our SHP memories.